Christian Science Reading Room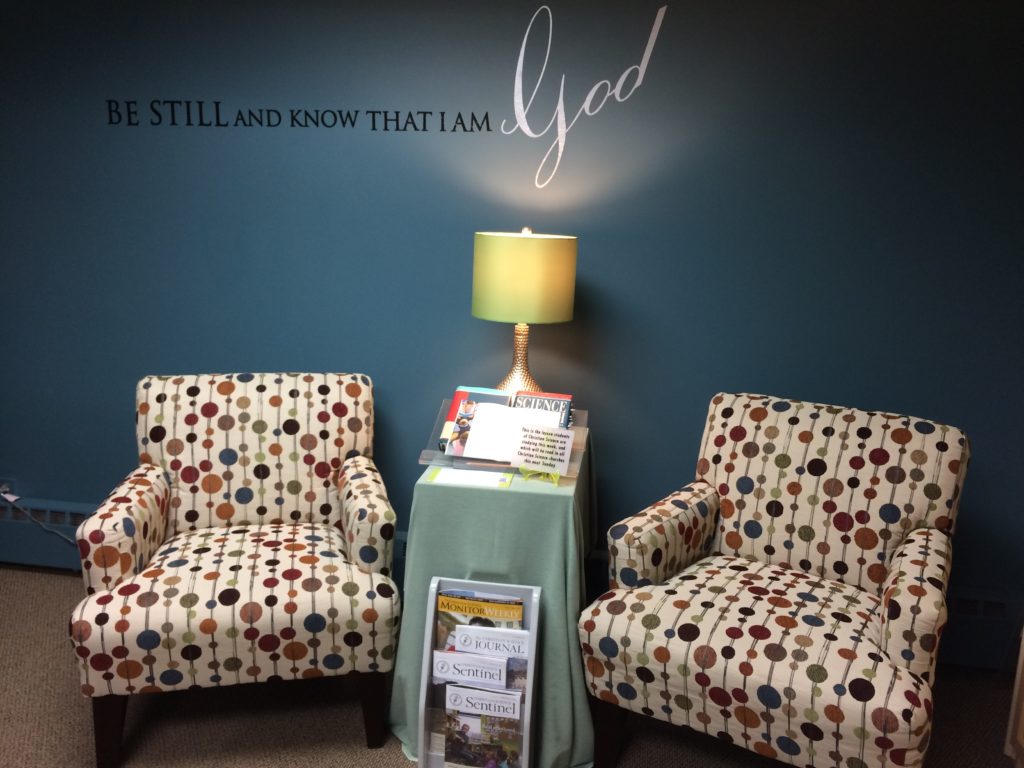 Sharing with our community is the purpose of our Reading Room, located at 127 South First Street, Suite 101, Geneva. Here you will find a wealth of Bible resource materials and all authorized Christian Science publications for study, purchase or borrowing.
Our Reading Room is maintained by individuals who actively study and practice Christian Science and are dedicated to helping visitors discover the peace, comfort, and spiritual solutions available to all from God.
Reading Room Hours
Tuesday and Thursday: 11:00 AM - 2:00 PM
Saturday, 11/14 - 11am to 2pm
Telephone: (630) 232-2868
Ample parking on the east side of the building can be accessed from James St. on the north or Campbell St. on the south. The main entrance to the building is from the east parking lot.
A Quiet Place
The Reading Room is a great place for quiet study or to read the week's Lesson-Sermon. Each week's topic offers fresh inspiration for a deeper understanding of God's unconditional love and care for each of us.
We are a public resource for anyone on his or her quest for spiritual understanding and are open to people of all faiths, backgrounds, and ways of life.
Stop in and find:
Science and Health with Key to the Scriptures and other works by Mary Baker Eddy
Bible and Bible reference books
Christian Science magazines (Christian Science Sentinel, The Christian Science Journal, El Heraldo de la Ciencia Cristiana)
The Christian Science Monitor Weekly, an international newspaper
Biographies of Mary Baker Eddy
Bible stories for children
Christian music CDs
Directory of resources, including church services, Sunday Schools, testimony meetings, college organizations, as well as Christian Science practitioners, teachers and Christian Science Nurses